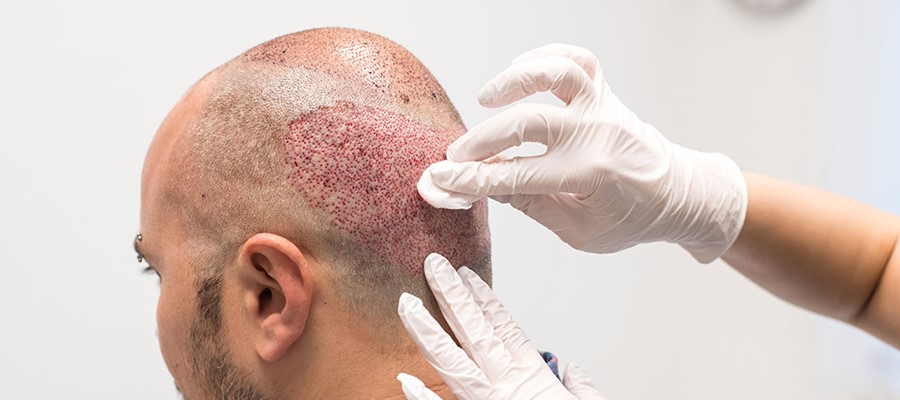 Dressing and bandage is a frequently considered and asked issue after hair transplantation. Patients want to know how many days the bandage and dressing applied after sowing will remain, the wound healing process and the stages of transition to normal life.
The areas where the planting is done and after it should be protected from all kinds of trauma and contamination. Otherwise, infection will be inevitable. In operations, the infection of the wound site causes many problems, from delayed healing to a decrease in the number of hair growths. This causes the results to be insufficient in terms of both aesthetics and health.
How to Dressing After Hair Transplantation?
Sterility is very important at every stage of planting. First, a hygienic surgical field is provided by washing before the operation. In this way, the number of microorganisms that can cause infection is diluted and reduced, and the infection power of microbes is reduced. During the operation, surgical sterility and hygiene rules are also followed. The use of surgical masks, bonnets and sterile gloves is absolute. Finally, sterile dressing is applied to prevent infection of the wound areas after the operation.
Dressing is done with sterile gloves. First, the wound site is cleaned using saline. Then, various antibiotic pomades are applied and closure is provided with the help of sterile punches and pads. Bandages can be used for dressings after hair transplantation, or ready-made products such as hypafix can be used. Generally, dressing is not applied to the planted area. Antibiotic solutions are applied and left open and air is provided. Therefore, it is important to be protected from physical trauma, rain and dust, especially for the first forty-eight hours after planting. Epithelization will be completed 24 hours after the operation.
Dressings are generally elastic. Excessively elastic bandages can impair circulation by putting pressure on the veins, which can prolong the wound healing process. Therefore, care should be taken that these bandages are not too tight.
When Should Bandages Be Removed After Hair Transplantation?
Two or three days after the hair transplant, the bandage is opened and washed. During washing, the transplantation area is cleaned with special lotions and shampoos, while being very polite, the transplanted hair and the transplantation area should not be damaged.
Bandages and caps are not recommended, as they may stick to the wound site in the first week after the procedure. Of course, hats and bandages will provide protection from dusty weather and sun effects. They can be used for these purposes. The issue to be considered here is that they do not cause sweating.